So the title is a little off right now - in a recent post I said I'd get some shots up from my mini-honeymoon to Pancake Bay and our mini adventure there. Seeing as Colin just posted a shot of his new truck I figured it was time for me to get in gear so on lunch break I exported and uploaded these shots.
Below I give you 3 shots from the Pictographs located at Agawa Bay about 45 minutes north of Pancake Bay. I thank myself for the good decision of bringing the fish eye along for the trek as there was no way I was getting close to these things with anything else (okay maybe some wide angles on a 35mm or a 5D but you get the point).
Shot from the first ledge leading onto where the pictographs are - basically you're out there and need to balance decent enough not to fall in: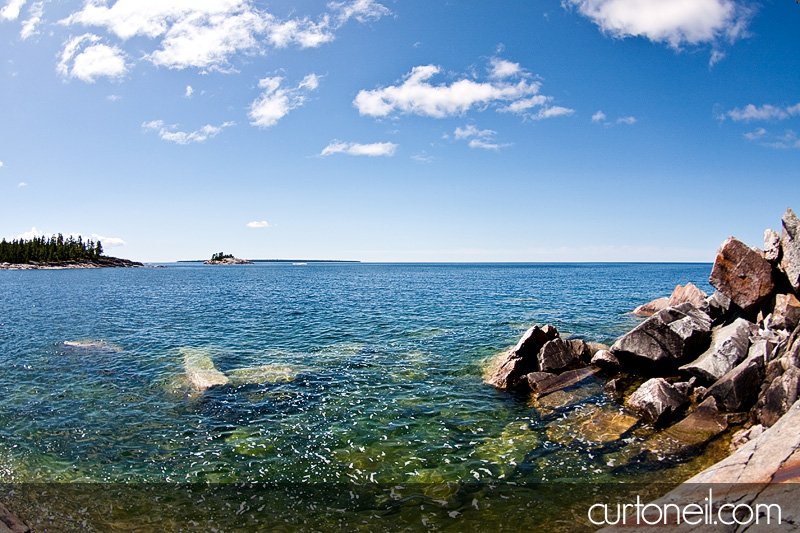 Shot from same spot - pictograph locations on the left, Jes in the front, interpreter behind her: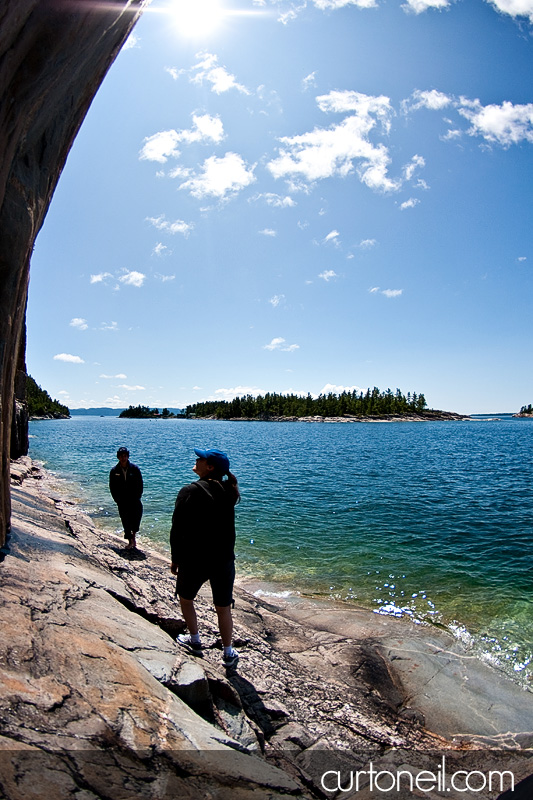 And a shot looking back the opposite direction from as far as you can walk out. Kayakers made their way by to see the ones on the other side of the rock wall not accessible by foot (located behind me - now they are just cruising), interpreter dude with another dude pointing at things.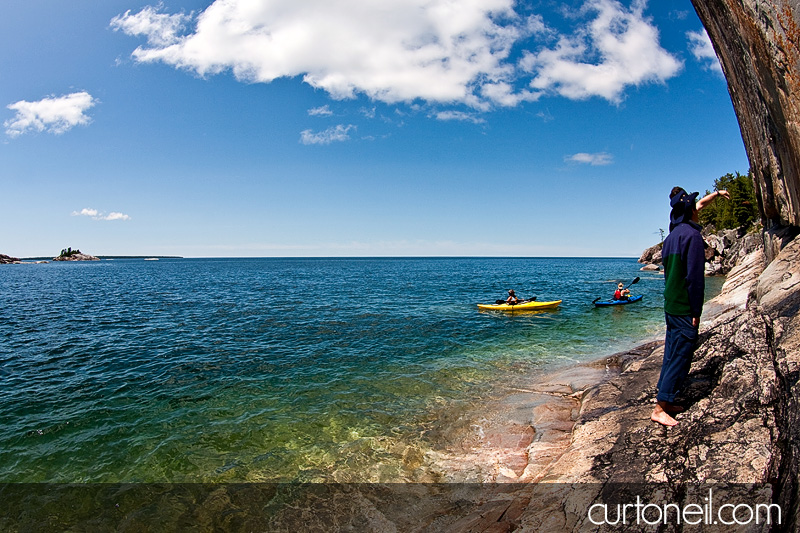 There'll be more coming when I get through some of the rest of the work I need to get through - but like I said I promised so this is the first part of the subject without any actual pictographs being shown

Very nice. How hard is it to get down to that point? A long hike? I don't think I'll make it there this year anyway (my yearly excuse).

That fisheye does a decent job with flare, considering in #2 you're shooting straight into the sun. Which fish is it?



Posts

: 896


Join date

: 2008-01-13


Location

: Sault Ste Marie ON



Hike down isn't bad at all, maybe 400 meters and it's all man-made stairs with rocks and stuff. Old people were doing it so you should have no problem

. There were some spots with rocks to climb down and up but like I said not bad.
We hard our normal shoes on - hiking boots would be a plus just for the grip but anything with decent grip should be fine.
When you get to the actual pictographs you're right down on the water so it's a bit slippery as the waves crash up. There's a chain to get across the first initial steep part but it's about 5-8 feet in length then you're on your own. Wasn't too bad though if you're decent with your footing.
That's the Tokina 10-17mm fish. It does a pretty good job and is priced fair enough as well - I just checked the exif and I shot that at 3.5. I didn't do much in LR, no recovery, I may have turned down the exposure a tad but don't think I did, then it was just a contrast boost and a vibrance tweak so the flare is pretty much as shot. That was the one part semi annoying me there with that shot but I like it still.
Curt,

What do you mean by LR and recovery? The colour is nice - somewhat looks like Fuji RVP. The lens is quite flare resistant.

If I were to go out there, I'd require 100% DEET... and a Nikonos.



Posts

: 940


Join date

: 2008-01-13


Location

: Sault Ste. Marie, Canada or Coimbra, Portugal



Sorry Nando - used to being on a forum where most use the program.

LR = Adobe's Lightroom and recovery is one of the sliders in there. Basically helps highlight recovery for blown highlights.

Also seeing this post I realize how far behind I am in getting work done, YIKES

---
Permissions in this forum:
You
cannot
reply to topics in this forum