An interesting read, even if I don't totally agree. I think it's more about Canadians not being aware of their own history, not the lack of iconic Canadian photographs.
Link
I've taken the liberty of adding some of my suggestions, some in the article, some not.
Also the Paul Watson "Black Hawk Down" Somalia series, which I won't link to because they're pretty graphic. Ran in most world newspapers though but I will leave them off here. You can google them if you want to see them.
Can't find a better pic of this. Tredeau dancing behind the Queen.
It is too bad that Her Majesty wasn't carrying her M3 with her the day Trudeau visited.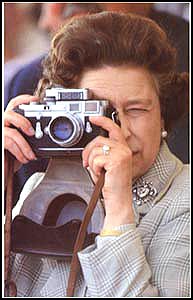 Somethings in the article refers to are images primarily from television and not photographs. The image of Trudeau dancing behind the Queen that the vast majority of people recognize is video. Jean Cretien's choke-hold incident was also on video. I feel that most Canadians, perhaps more so than Americans, are tied to moving imagery from television than from still images found in magazines. As mentioned in the article, in the US, there was Life magazine and Time magazine that ran photo-essays by best photographers in the world - Henri Cartier-Bresson, Robert Capa, Alfred Eisenstaedt, etc. No Canadian publication ever had that kind of photographic firepower. They remained popular long after video took over photography as the primary means to publish news and documentary imagery. Even the images we see through television, how much of it is content dealing with Canada or Canadians?
Concerning Paul Watson's photos, that's not the kind of photographs the article is talking about. It talks about iconic photographs depicting a moment in
Canadian
history as opposed Somali history or US history, etc. And also iconic photographs that have come to symbolize some sort of Canadian ideal.
This brings up a very good point. Historically, the better Canadian photographers and photojournalists do not 'cover' Canada that much. Take George Zimbel, for example, he studied in the United States and naturally went to work there though he's still a Montrealer. There was more action there and the money was probably much better. Even Yousuf Karsh, who is perhaps the most renown Canadian photographer, is known primarily for his portraits of non-Canadians like Winston Churchill, Fidel Castro, JFK, Picasso, Einstein, etc. Karsh's portrait of Winston Churchill is definitely an iconic photograph but its iconic for people in the UK. There are really good photographers like Ted Grant that do cover Canada and Canadians quite extensively in addition to things outside of country but I don't think there are very many photographers like him.
Many Canadians have probably seen this photograph by Ted Grant:
(from
Ted Grant's website
)
And what does that photograph mean to a Canadian anyway? It probably could stand for something but would that ideal have any substance? Would such an ideal be accepted by all Canadians? Some Canadians didn't like and still don't like Trudeau. Perhaps our culture is such that it does not need iconic imagery to symbolize the country or a Canadian ideal. Perhaps there just isn't the kind of political machines in Canada that would politicize this photograph, propagate it nationally (and internationally) and elevate it to an iconic image.
Unless someone is an absolute prodigy like HCB, truly great photographs don't occur very often for most photographers - even the best ones. If a photographer has just 4 or 5 excellent, universally known photographs then that is really good. Iconic photographs not only have to be well known but they also have to really stand for something and that makes them even rarer. Everyone knows Korda's iconic photograph of Che Guevara. In my opinion, it is the most iconic photograph in history. But do people generally know any other photographs taken by this man? The lack of iconic Canadian photographs may just be contributed to the lack of luck in having a good photographer being at the right place at the right time with a camera ready. I'm also a Portuguese citizen and I can't think of an iconic "Portuguese" photograph.
I'm glad you brought up the Karsch Churchill portrait, although it was a portrait of a British Prime Minister the photo was actually taken in the Canada so I would argue that it was taken by a Canadian in Canada of a British subject... 2 out of 3 ain't bad

Add it to the list!
I don't know if the that one should count. It shouldn't matter if the photograph was taken in Canada or if it was taken by a Canadian but that it is iconic to Canadians.
How about this scenario. A picture of a real Canadian icon but not necessarily a good picture.
The main criticism is that many people took this exact same photograph. There are perhaps hundreds of photographs just like this one. The frontal image of Terry Fox running toward us is burned into our consciousness however, rarely do you see an image Terry Fox from the side, the back, or any other angle while he's running. We rarely see images of Terry Fox doing anything other than running. Instead it is always a frontal shot of him running toward us. The one shown above, was just one of of many found on the web.
The iconic photographs of Iwo Jima, for example, is something unique as is the portrait of Churchill. The iconic image of Terry Fox is not unique. Many people who had their cameras ready when Terry Fox passed through their town, took a photograph just like this. Not only was this still image captured in a photograph but it was also on captured on video. Does uniqueness matter?
Last edited by Nando on Wed Jun 04, 2008 9:31 am; edited 1 time in total
Haha funny you should say that. My dad took one of those infamous Terry Fox images

I was thinking about this today and it dawned on me that photographers are not out to create iconography. Iconography is a a separate discipline altogether. The quality or meaningfulness of a photograph cannot be based on whether or not it is an iconic photograph. I thought about my favourite photographs and none of them are iconic.

This study by Prof. Whalen is a bit silly if you think about it. Why have yet another study on why Canada doesn't have _______________ like the Americans do? There are more pressing issues in photography. Perhaps we should be analyzing why photographers aren't documenting the suffering in first nation communities like Pikangikum, for example. And if they are documenting them, why aren't their photographs being published?
Last edited by Nando on Thu Jun 05, 2008 12:39 am; edited 1 time in total
I've been thinking about this topic since it was first posted. I was sure there must be some image that I was forgetting... unfortunately, no. What a sad moment. I then read the entire article again.

It may be my canadian pride making me so defensive, but I definitely don't agree with the prof's view.
I really think that there are two major reasons for the difference between the two countries. The major reason being the US' long standing history of propaganda use. From Uncle Sam and Rosie the riveter to Coca Cola's Santa (now recognized as North America's official Christmas "go-to guy"), even before the camera was the visual media of choice, the US has needed/insisted on associating a key image behind anything they needed unity on. Video seems to be the new media, but it's the same result. The video of Sadam's statue being torn down by american troops will forever be remembered/forced upon as the collective memory and justification for that conflict.

My other reason as to why these countries are so un-comparable is their history. The US is a country founded and forged on events of misery and conflict where the only rescue came from unity.
Canada's interpretation of it's history is in no way unifying or entirely celebrated. The Native population and culture was the first to be... oh, what's the word.... um.... let's go with... disenfranchised. The french don't exactly celebrate how this country was founded either.
Now, rural couldn't care about urban, west hates central, the east coast seems to be perpetually suffering, and well.... who cares about Toronto but Toronto. (HA HA HA HA, I joke, but many would agree, maybe I don't entirely joke)

I agree with Nando, I don't believe the quality of an image can't be based on it's Iconic potential.(though that may be my canadiana coming out)
But as for the US' most iconic image of all time, the flag on Iwo Jima... It was used to remember that war(and all others) fondly... it was again a moment of uniting conflict and victory thru misery...
AND.... Was absolutely staged! Almost as if the photographer knew there was a market for iconography in his home country. Not that I blame him, Awesome shot. But the story of the shot is more telling about the country than the image hopes to be.



Posts

: 258


Join date

: 2008-01-14



Good point about the Rosenthal's Iwo Jima photo. I don't think it was necessarily staged. The problem was that the photo was presented as if these soldiers were raising the flag while dodging Japanese bullets and mortar fire.
The photo:
This group shot was taken minutes after:
More about the shoot:
http://www.iwojima.com/raising/raisingb.htm
Let's compare it to this photo by Robert Capa who was on the beach on D-Day.
If you want to see a good example of current (post-modernist) iconography is graphic-designer Shepard Fairey's use of Andre the Giant's image in his "Obey Giant" project.


Similar topics
---
Permissions in this forum:
You
cannot
reply to topics in this forum